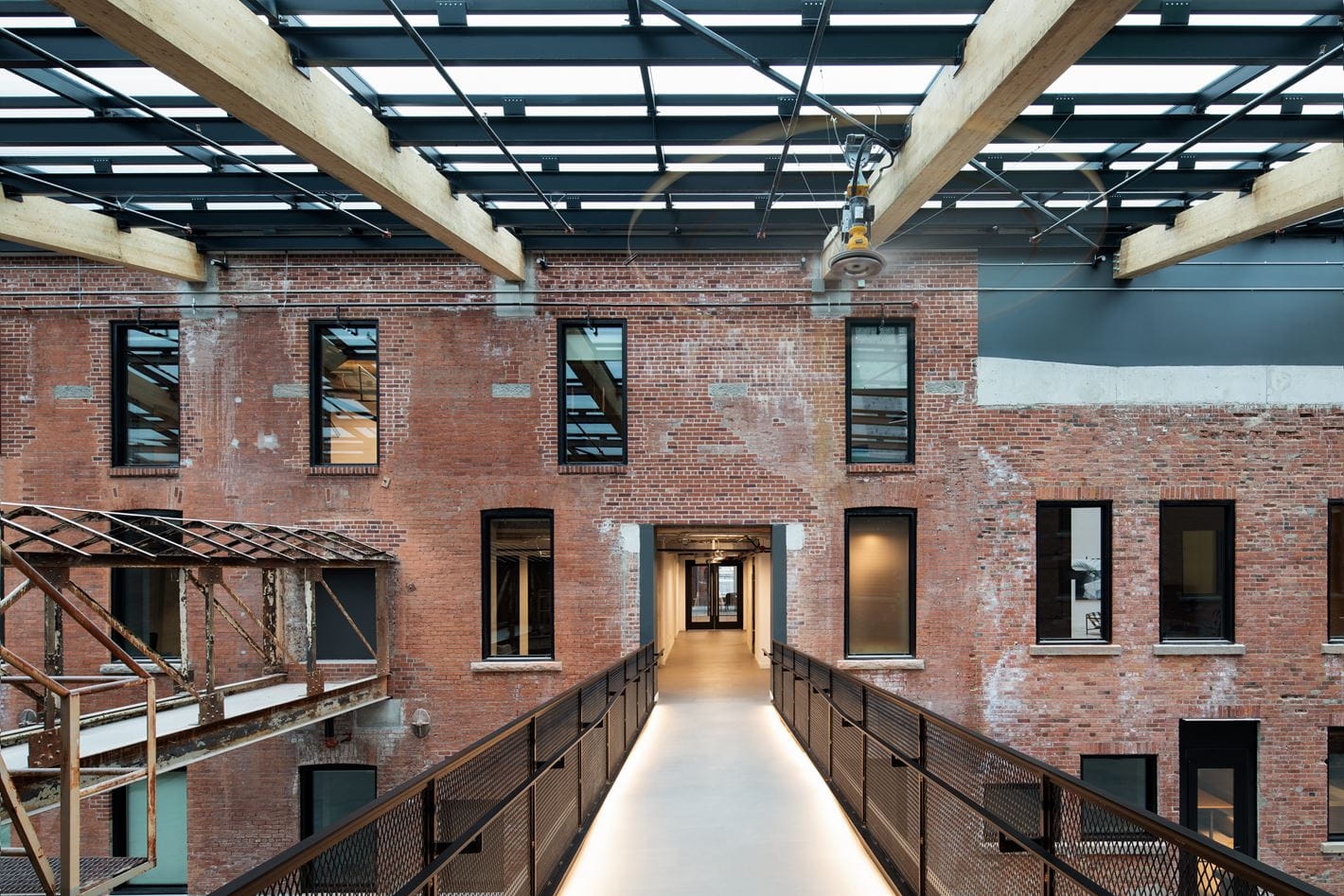 Zibi is a major restoration and conversion project of two industrial buildings into office spaces, including the addition of a connecting atrium. The 41 00 sq. ft. project is located in one of the most sustainable neighbourhoods, in Canada, along the Ottawa River at the bottom of Chaudière Falls, an algonquin territory that was once the industrial cradle of wood transformation in North America. The buildings now called Blocks # 2 and 3 were originally owned by the E.B. Eddy Company. Over the years, they have undergone multiple alterations - orchestrated by Domtar Corporation.

The mandate was very complex due to the dilapidation of industrial buildings: decontamination (asbestos), upgrading, shoring of columns, unforeseen demolitions, recycling and recovery of original elements, work on the foundations, modification of the shear wall, modification of elevators, modification of window arches, correction of beams and columns, and dilapidated roof structures.

Ultimately, the buildings are restored to maintain their present appearance as much as possible. The facades are treated in a sober and minimalist way with steel and glass in order to contrast with the textures and colours of the old materials. The new facades north of Block 2 were reworked to express an extruded volume truncated at its extremity to create a large opening towards Parliament Hill. Full-footed openings present the industrial remains in an almost museum-like manner, in plain view of by passers and occupants.

TITLE : Zibi Blocs 2 et 3
CLIENT : Zibi Canada

CATEGORY : (1) Commercial, (2) Renovation and conversion

SPAN : 41 000 sq.ft.

LOCATION : Gatineau, Québec

DATE : 2020
STATUS : Completed
COLLABORATORS :
Engineer, building envelope consulting: Morrison Hershfield
Structural engineer: John G. Cooke & Associates Ltd
Electromechanical engineer: SAF
AWARDS : Grands Prix du Design, Special Awards / Heritage Conservation, Restoration & Presentation category (2021).