In competition with two other firms, the team convinced Red Bull managers to set up their new headquarters in an urban and offbeat site evocative of both street art culture and the intensity of extreme sports. North of Amsterdam, in an obsolete shipbuilding environment, the Noord district has been under complete redevelopment, attracting artists and major arts and media companies such as MTV Europe. That's where Red Bull Amsterdam agreed to settle, in an old heritage shipbuilding factory.
To design the inner space, we aimed at retrieving Red Bull's philosophy, to suggest the idea of the two opposed and complementary sides of the human mind: reason versus intuition, industry versus arts, dark versus light, the rise of the angel (Red Bull gives you wings) versus the brutality of the bull. The interior architecture with multiple layers of meaning conveys this dual personality.
CLIENT : Red Bull
CATEGORY : Corporate — Renovation & conversion
SPAN : 9,415 sq. ft.
LOCATION : Amsterdam
DATE : 2011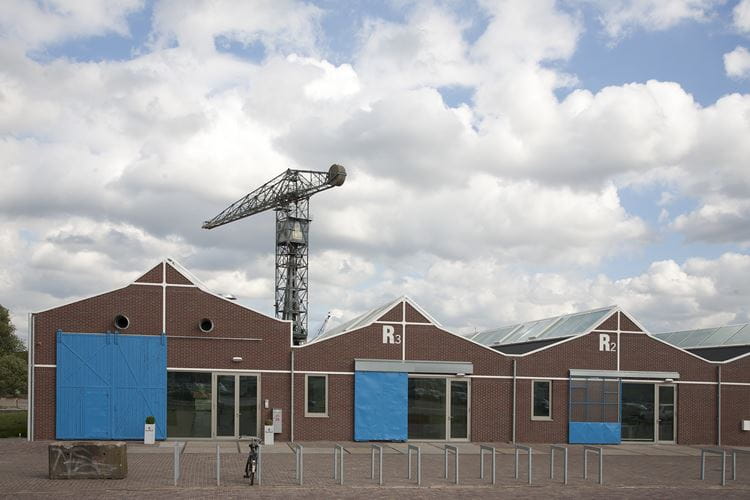 Prizes
2012 — B!G Awards Strategy, Gold
2012 — CLIO Awards, Silver - Environmental Design
2012 — Canadian Regional Design Awards (the Redgees), Winner - Environmental Design
2011 — Grands Prix du Design intérieur, Prize - Offices - 5,000 to 20,000 sq.ft.
2011 — Grafika, Grand Prize - Signage and Environmental Design
2009 — Red Bull Marketing Awards, Excellence in Brand Creativity