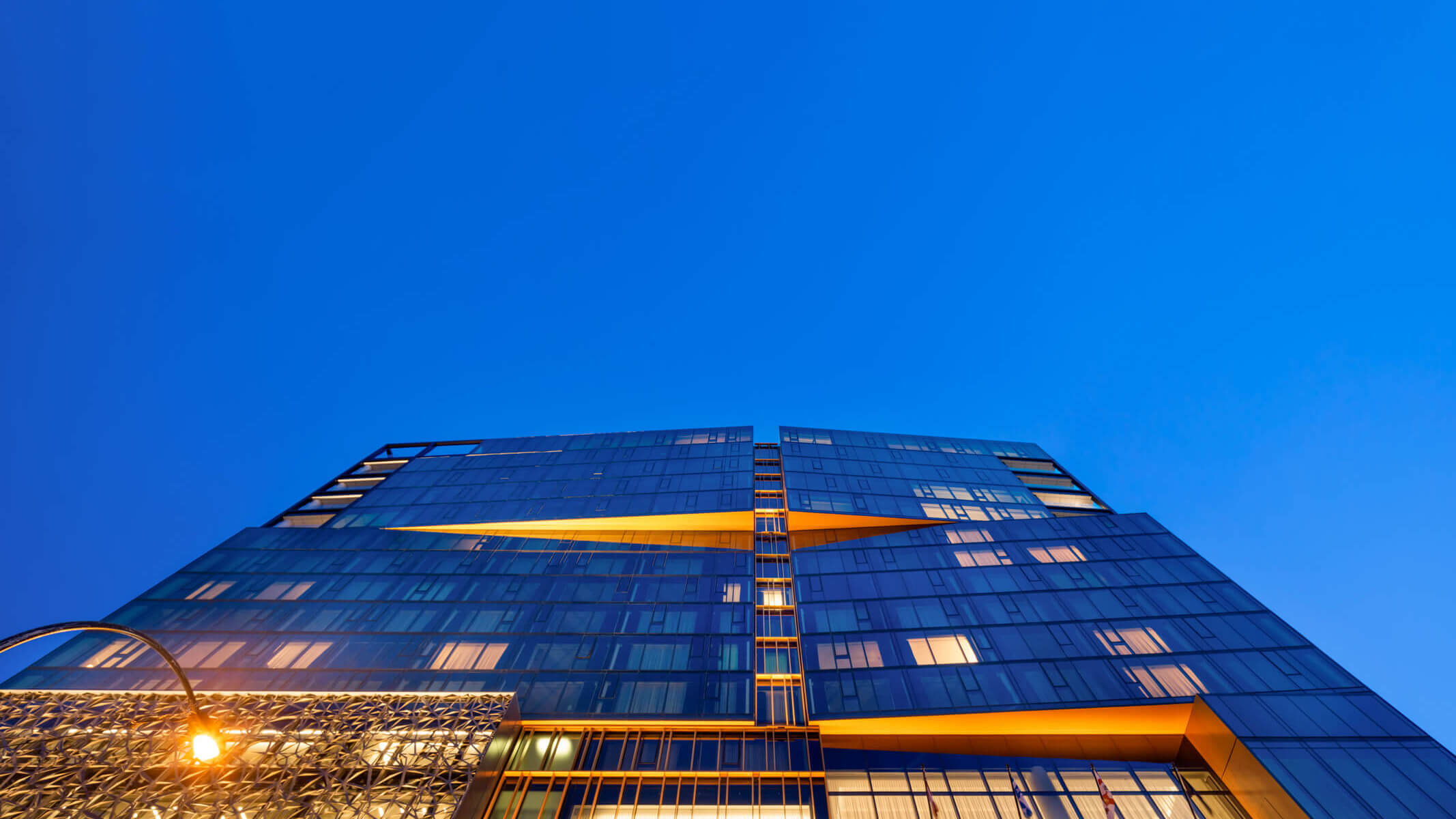 The new complex evokes luxury and elegance in a classic and contemporary fashion, at the heart of Montreal's vibrant downtown core. With a total surface area of 35,000 m², the 18-storey multifunctional building includes a 169-room hotel and 18 private residences. It makes an iconic statement with its streamlined, uniquely off-set volumes and richly textured accents that embody the luxury and refinement of the world-famous hotel banner.
The building's angles define its hospitality, residential and commercial vocations. Boldly swathed in black, the tower captures light differently on each floor and interacts with Montreal's ever-changing character. The effect is accentuated by each façade's golden bas-relief that divides the main volume according to its interior functions. This golden rift changes the aspect of the building; it emerges through the volume, folds inwards and spreads vertically by creating a thin blade in the centre of the building.
The materiality of the envelope also contributes to the quality of the project. The glass walls' fine and precise assembly gives rise to an ethereal and almost immaterial impression. The dark colour of the glass lays a delicate veil over the interior spaces and creates a subdued appearance at nightfall. The granite of the side facades reflects the rhythm of the glass panels while its varying textures come to life under the influence of ambient light.
The Four Seasons offers its visitors and residents breathtaking views of the river and mountains, the city and its skyscrapers, and a magnificent mural of Leonard Cohen.
CLIENT : Carbonleo
CATEGORY : Hospitality
SPAN : 690,000 sq. ft.
LOCATION : Montreal, Quebec
DATE : 2019
STATUS : Completed
COLLABORATORS : Lemay, in consortium