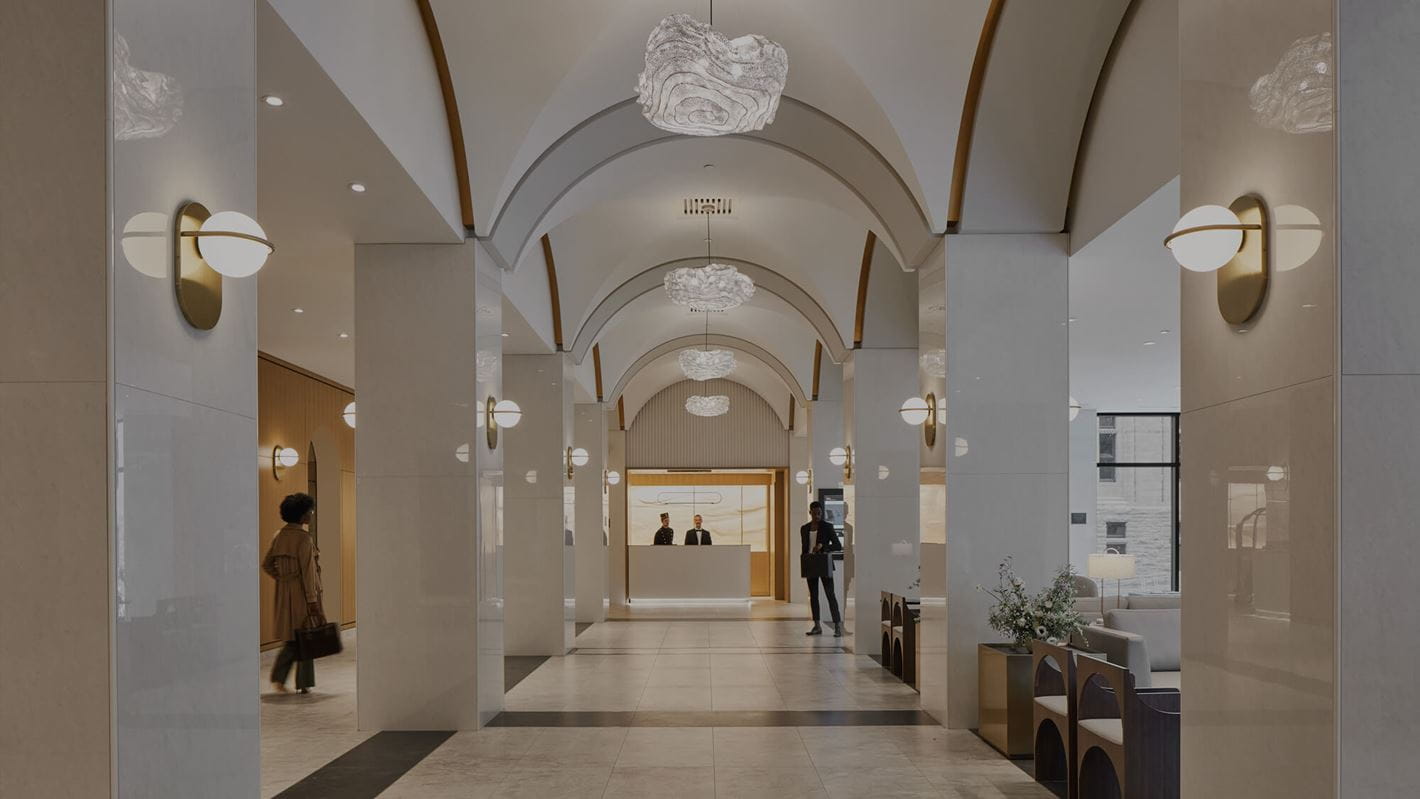 Marriott Château
Champlain Hotel
Tidan Hospitality and Real Estate Group
Originally designed by Quebec architects Rogers D'Astous and Jean-Paul Pothier in 1967 at the time of the world's fair, the Château Champlain is notable for its iconic structure and technical accomplishments. Overlooking the city from the top of its 128-meter, 38-story height, the hotel was once the tallest in Canada. Today, it continues to catch the eye of passers-by downtown with its rhythmic half-moon windows and the neo-Roman arches of Windsor station. Earning the nickname of "the cheese grater," these window frames simulating the look of balconies were put at the core of the project's design narrative.
CLIENT : Tidan Hospitality and Real Estate Group
CATEGORY : Leisure & Hospitality
SPAN : 393,300 sq. ft.
LOCATION : Montreal, Quebec
DATE : 2021
STATUS : Completed
COLLABORATORS : Tidan Construction, Bouthillette Parizeau, Ombrage and MASSIVart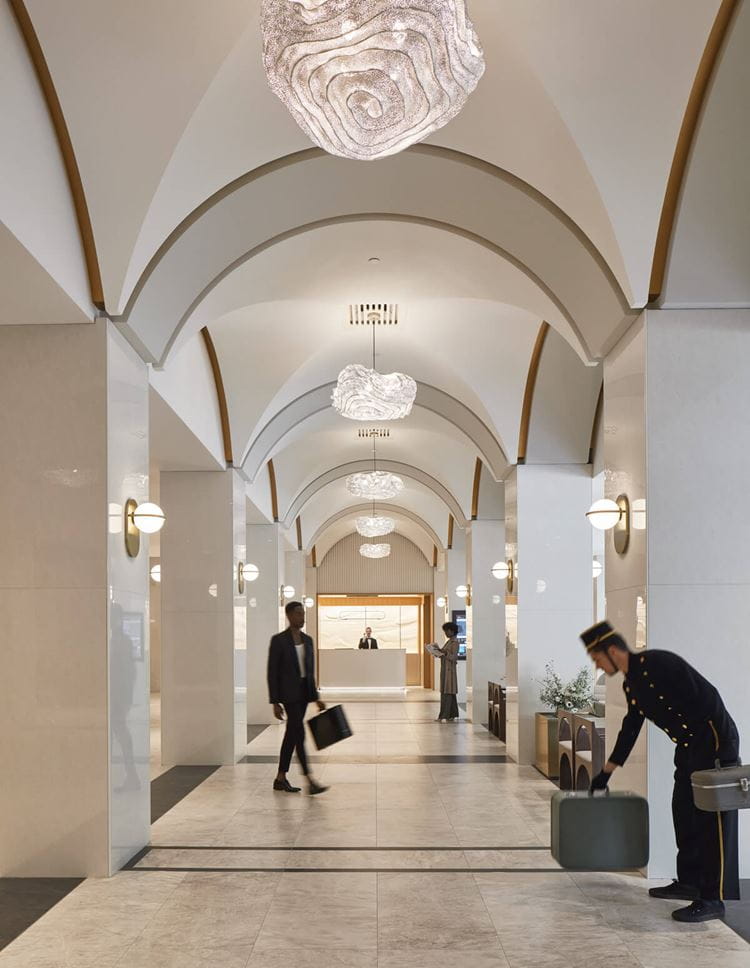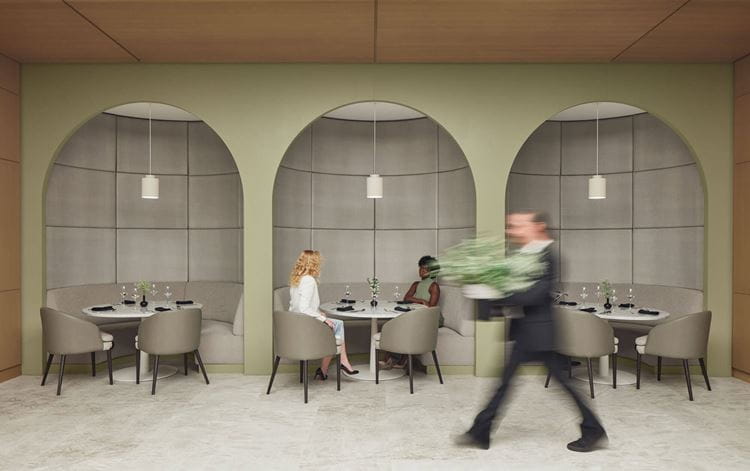 First restoration
Initially undertaken following the hotel's acquisition by the Tidan Group in 2018, this restoration project represents the first major renovation of the building since its construction.
Symbolic of Quebec's architectural heritage, not to mention being an exceptional visual landmark at the heart of the city, the Château Champlain today unveils an updated design that enhances the majestic urban landscape offered by its variety of panoramic views. Reimagined in an elegant, timeless style, the new Château Champlain reasserts its place amongst Canada's most eminent hotels through a renewal of its interior design that integrates the spirit of the Marriott brand.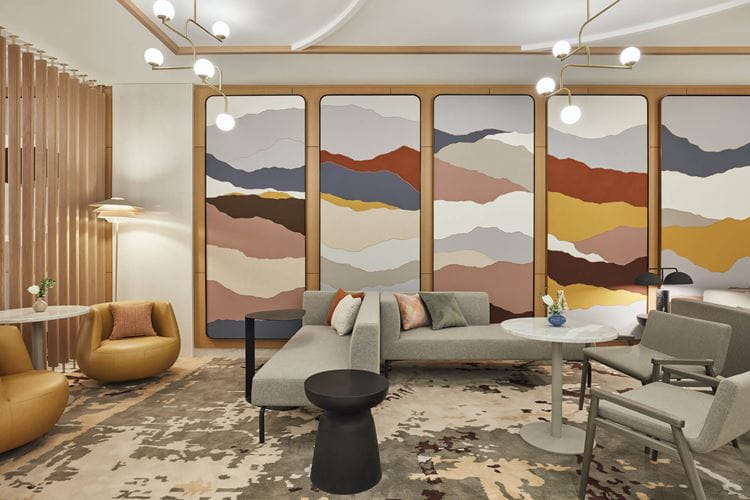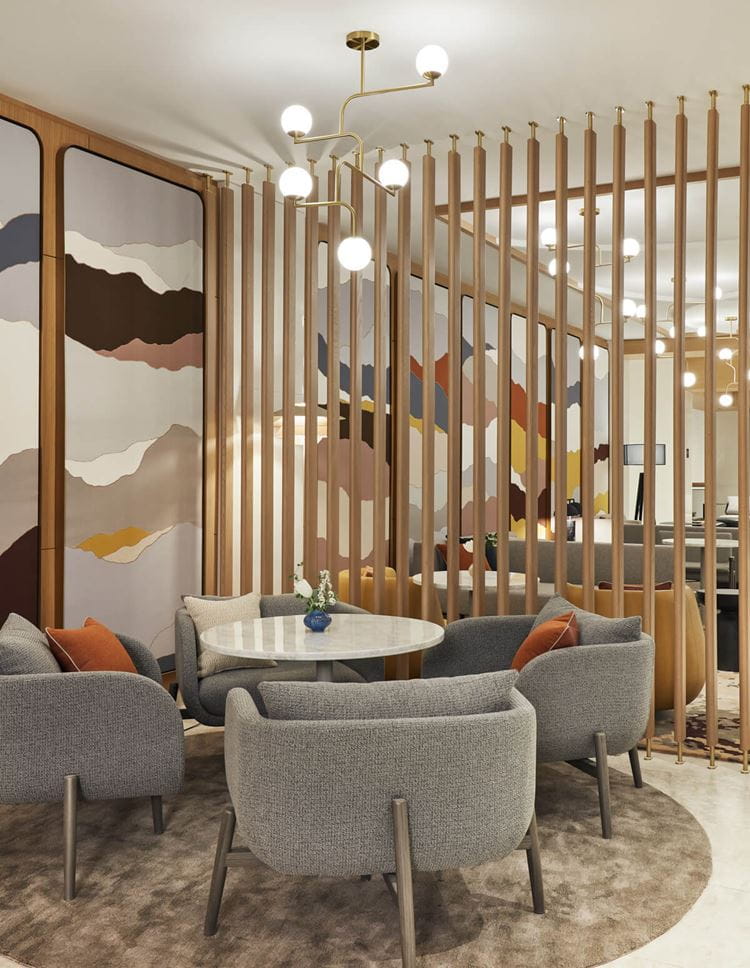 Like a winter garden
Bordered by the gardens of Place du Canada, Dorchester Square, the Old Port, and Mont-Royal, the Château Champlain enjoys an exceptional location within the city. Inspired by the uninterrupted views offered by the hotel's interior "balconies," our team decided to go with an original conceptual approach that highlighted the beauty of the surrounding landscape during winter.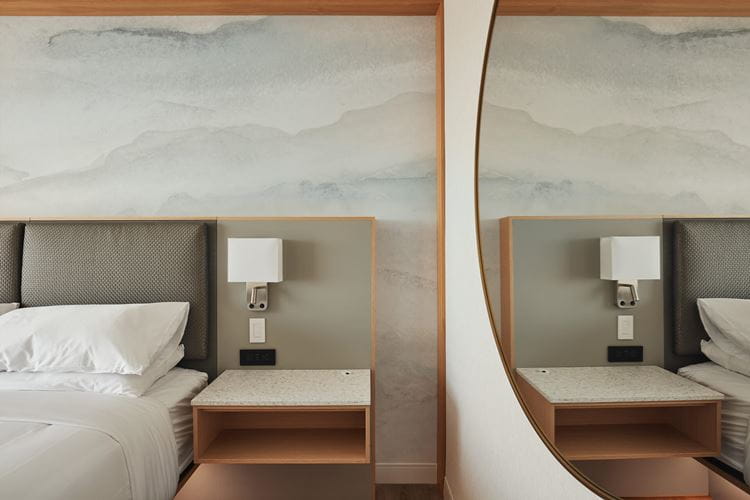 The contrast between the characteristic cold weather and the hotel's warm hospitality is materialized in the spatial experience through the use of organic forms, desaturated colors, and reflective finishes as well as by the use of natural materials such as wood and stone. The beautifully crafted interiors also include many nods to the Saint Lawrence River as well as the neighboring gardens, as if to extend their visual traces into the heart of the building.

The Château Champlain has been reimagined as a nearby refuge in the heart of the city—a comforting, harmonious environment that encourages taking in views of the city, all year long.