The Place Ville Marie Esplanade and its glass pavilion under construction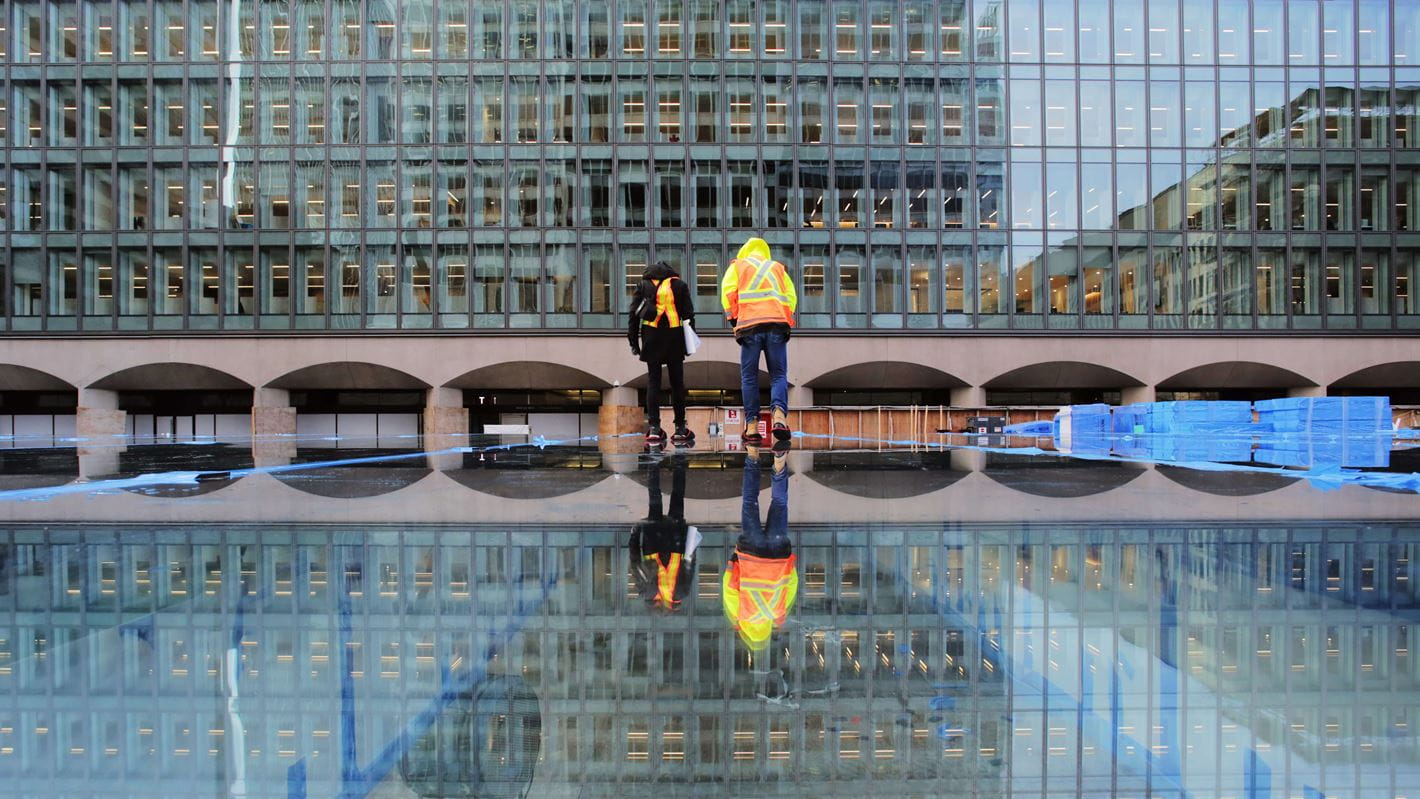 From August to December 2018, one of the largest glass structures in North America is being assembled in the heart of downtown Montreal. The pavilion was prefabricated by the German supplier Seele and assembled locally by Pomerleau and Techniverre's teams.
The Place Ville Marie Esplanade's four skylights gave way to this floating structure connecting the city to its underground counterpart. It will also serve as the entrance to Place Ville Marie's future food hall and commercial gallery.
The pavilion's structure consists of 18 glass beams measuring 15 metres long and 0.9 metres tall. The beams are covered with 15 glass panels measuring 15 metres long by 2.5 metres wide. Two cantilevered glass beams, including a 15-foot long one, allows the roof to extend to the pavilion's south entrance. In all, that's 60 pieces, 190 tons, and $13.4M of glass.
The high-quality glass has remarkable transparency and will provide the pavilion's visitors with an unobstructed view of Mont-Royal on the north side.
About the major renovation work on the Place Ville Marie Esplanade, led by Ivanhoé Cambridge
The revitalisation project of the Place Ville Marie Esplanade, is part of Ivanhoé Cambridge's vision for downtown Montreal, also known as Projet Nouveau Centre. This revitalization aims to position Place Ville Marie as a major urban gathering location rivalling those of the great international metropolises.
"Our primary goal is for this civic space to be a catalyst for downtown social activity," said Jean Pelland, Architect and Senior Partner, Sid Lee Architecture. Given the importance of this iconic space, we sought additional exposure to urban activity, making it more accessible and usable. Our major architectural interventions are in line with this desire for great openness, just as the original architects had initially imagined.
See all photos here :