The Team of Sid Lee Architecture | Mandaworks, OPTION Aménagement and GBi, finalist in the Place des Montréalaises International Multidisciplinary Competition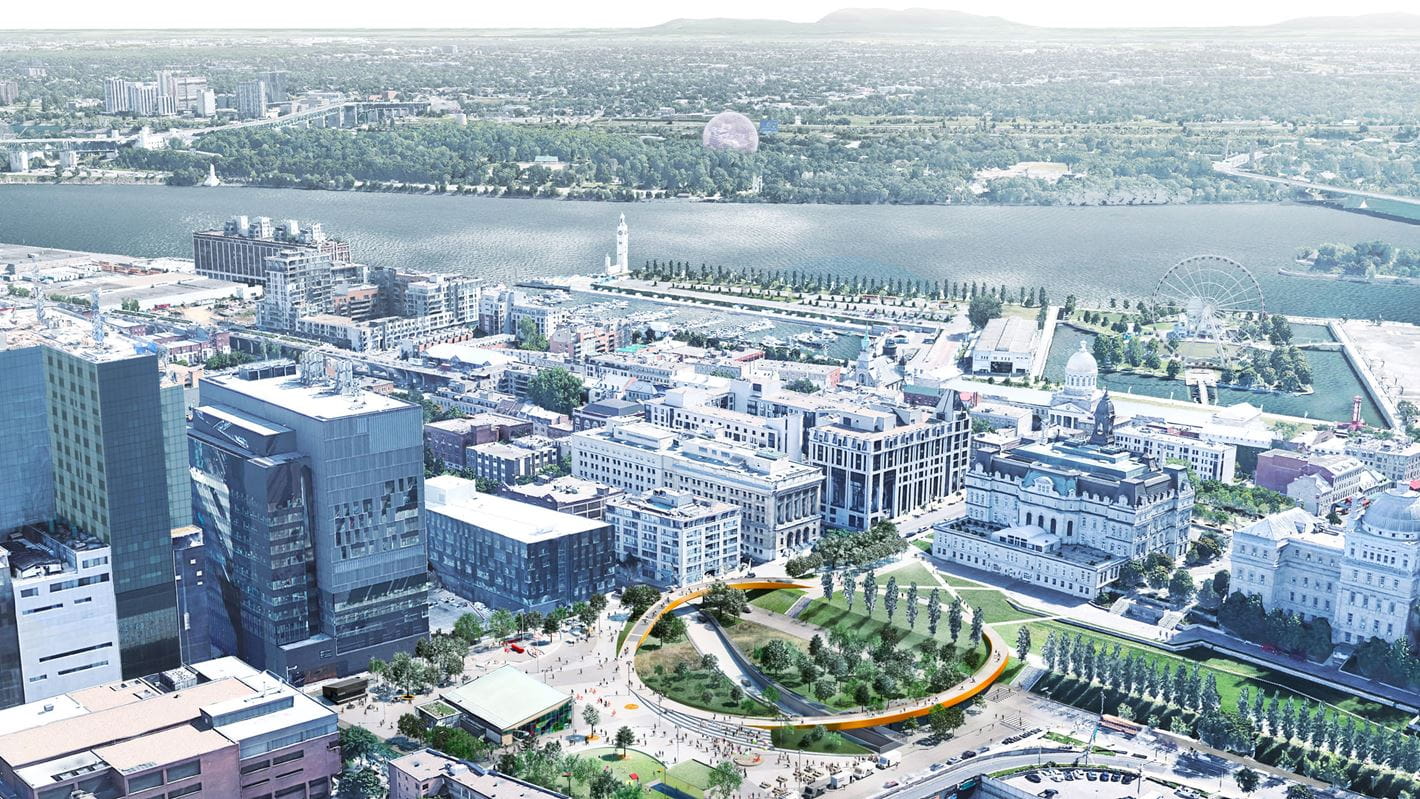 Today, the City of Montreal publicly announced the winner of the International Multidisciplinary Landscape Architecture Competition. Our entry, anno, was not selected as the winner, but it nevertheless received recognition from the jury for its sensibility and creativity with regards to the urban challenges targeted by the competition.
The competition concerns the design of an identity-building public place with a pedestrian overpass adjacent to the Champ-de-Mars métro station, a major entry point to Old Montréal, at the foot of City Hall and the CHUM-CRCHUM. In the '70s, the construction of the Ville-Marie Expressway divided Montreal and created a scar between the old and the new town. The area around Champ-de-Mars is one of the sectors that this division affected the most.
The aim of the planned new design is to enhance the pedestrian path between the Cité administrative and the rest of the Champ-de-Mars area. The new public place will provide an opportunity to pursue the commemoration of Marie-Josèphe-Angélique and to showcase the Champs-de Mars metro station, which features a major glasswork by Marcelle Ferron. The design will also aim to provide clear sightlines for the attractive views toward Old Montréal and the downtown core, as well as the monumental cityscape and the area's characteristic features, and must clearly orient users in the space.
The team came up with anno, a true urban loop joining Champ-de-Mars Park, Vauquelin Place, city hall and the Champ-de-Mars metro station. The circular bridge is divided in two paths: one is a quick and functional express lane for commuters, while the other is a longer path for visitors to experience. anno's landscaping commemorates the life of twenty-two Montreal women. Each commemorated woman is represented by an aboriginal tree species. In different locations across the park, each pioneer is given an area where her tree is fitted with a unique theme and commemorative tree grate. In addition to the tree and tree grate, visitors will find furniture, landscapes, artworks and activities that relate to each woman and her contribution to the city.
In all, this project offers an emblematic signature and is a marked addition to the city's historic landscape in celebrating the area and the story it has to tell.
For more details, see the project here.